Churchill-Bound American Pharoah Star of Show | BloodHorse.com
Churchill-Bound American Pharoah Star of Show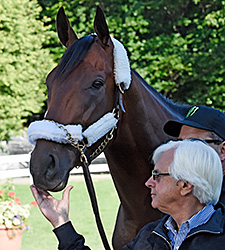 American Pharoah was thriving in his role as Thoroughbred racing's latest superstar June 7, one day after winning the Belmont Stakes presented by DraftKings (gr. I) to become the first horse since 1978 to sweep the Triple Crown.
As Hall of Famer Bob Baffert brought Zayat Stables' 3-year-old son of Pioneerof the Nile out to meet the press first thing in the morning, the colt who accomplished one of the most difficult tasks in sports stood so calmly that his trainer invited everyone closer, a rare moment of access to such an accomplished contender.
"You guys want to come over and, like, pet him?" Baffert asked, and the throng surrounded American Pharoah to pet his shoulder and forehead, a few even going so far as to kiss him on the muzzle.
A few moments later, before shipping out to Churchill Downs, American Pharoah joined Baffert and jockey Victor Espinoza in an appearance on NBC's Today Show, standing with ears pricked between the two as they perched in director's chairs.
"He's a little tired, but we're probably more tired," Baffert said with a grin. "He's so tough, a couple days and he'll be back to normal.
"The only time he came back blowing was after the Kentucky Derby," Baffert added. "He was tired. That was the one. But he spent himself on the way over there (in the walkover) pretty good, plus he needed a nice, hard race."
After his media appearances, American Pharoah boarded a Brook Ledge van accompanied by assistant trainer Jimmy Barnes. The Triple Crown winner was headed for a flight to Kentucky and is expected to arrive at Churchill around 1:30 p.m. EDT. He will parade before the fans June 13, Stephen Foster Day at the Louisville oval.
"We'll give him at least four days off; we'll get him back and weigh him," Baffert said when asked how soon American Pharoah would go back to the track.
No decision has been made on where American Pharoah will make his next start, but his connections said the Oct. 31 Breeders' Cup Classic (gr. I) at Keeneland would be the final start of his career with three potential races between the Triple Crown and then.
American Pharoah will retire to Ashford Stud near Lexington, Ky. when his racing career is over.